WELCOME to 26 BADASS members and guests for the last meeting of the summer. This month's meeting was hosted by Dan and Helen.
This month's theme was: Fest Beers and Marzens. Festbiers are category 4B in the BJCP. (Category 4 is "Pale Malty European Lagers") Marzens are category 6A in the BJCP. (Category 6 is "Amber Malty European Lagers".
MEMBERS are reminded to LABEL each beer that they bring to the meetings with the following information: Brewer's name, name of beer, BJCP category, and ABV. People want to know whose beer they are drinking!!!!
BREWER'S CORNER Members are invited each month to seek feedback on beers they brewed for this meeting. This month we sampled several fantastic beers including an oktoberfest, a rye pale ale, a new zealand inspired IPA. We also had a couple from folks looking for help diagnosing problems in their beer. We look forward to helping out all our members continue to refine their beer to their liking so be sure to bring something in for tasting next month!
UPCOMING EVENTS A number of competitions are coming up. Members are encouraged to go to http://www.mdhomebrewers.com/?page_id+=474 for specific information
A "MEMBER DISCOUNT PROGRAM" for various local businesses is being finalized. Cards for members are being printed and details for using the cards will be covered at the next meeting.
CLUB NEWS this month featured a change in leadership. BADASS's Captain, Allen Perper stepped down and turned the reins over to Justin Kirby. (More on this to follow!!)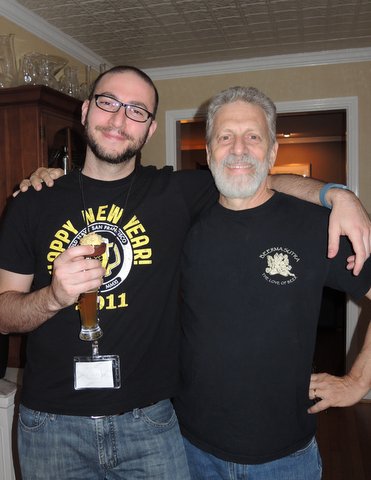 EDUCATION TOPIC: "Mashing" by Matt Ellis. Matt gave an excellent thoughtful presentation which can be viewed on the BADASS website.
Categories: Monthly Meeting Notes