Hello friends! We just want to post a quick note about the lack of notes from 2015 to now. This does not mean we have not been having meetings. It just means we have been a bit too busy with all things brewing to post meeting notes. 
If you want notes, we invite you to join in the next meeting and take some! We will be glad to post them on the site if you do. Until meeting notes are resurrected, the best way to find out the latest happenings is to come to our meetings and other events. Just check out the EVENTS page and sign up! We look forward to seeing you there. 
Thanks, 
BADASS
Specal thanks to Gary and Claire and Baby Calvin for hosting our meeting this month!  
Our newly minted Chairman, Justin opened the meeting and welcomed new attendees to introduce themselves.  Quentin H. from Kemp Mill has been brewing for less than a year and prefers using extracts.  Jeff recently moved here from Seattle and has been brewing for about a year and a half. He and his wife just had a new baby three weeks ago!  Congrats!  
UPDATES
--This year's Guild Holiday Party will be held on December 5th at Heavy Seas Brewing...same as last year.  Michelle T. (the Guardian of BADASS events) invited members last month to come together to plan the theme for this year's BADASS booth.  The group picked the theme "Oh, the Horror".  Discussion at the meeting tossed around ideas for "classic" or "campy" styles?  Dracula? Slasher? Friday the 13th?  And noted that they still need to work on more details.
A spreadsheet has been posted to allow all members to indicate:  whether you want TICKETS; what DECORATIONS you can contribute; and the type of FOOD/BEER you will be bringing.  BADASS coordinated last year with neighboring club BREW with a Hawaiian theme and took second place!!! This year BREW will have their own booth.  Rich Suchoski reminded memebers that he lives very close to Heavy Seas and offered use of his workshop for prepping backdrops or deco for the booth.  
UPCOMING EVENTS
--Brookside Gardens has an event Tuesday 10/27 featuring homebrews, pumpkin carving and a moonlit walk through the gardens
HOMEBREW COMPETITONS
--MALT Turkey Shoot - Entries due 11/7. Judging 11/14.  Details at http://maltclub.org/MALT/Turkey_Shoot.html.
--Members discussed the possibility of organizing some mini competitions between members.  Robert S, Matt and Brett will  set up a side meeting to work on this.  
EDUCATIONAL PRESENTATION
--This month's education topic was "Hop Additions" and was prepared and delivered by Adam S.  He has posted the entire PowerPoint presentation on the BADASS website.  
BEER THEME FOR THE MONTH
--This month we focused on IPAs.  Rich S (Education) reviewed the 2015 BJCP Guidelines for IPAs.  In 2008 IPAs were category 14 and covered English, American and Imperial IPAs.  The 2015 Guidelines now have Category 12 (Pale Commonwealth Beer), and 12C (English IPA), Category 21A  (American IPA) and 21B (with six Specialty IPAs...Belgian, Black, Brown, Red, Rye and White), Category 22 (Strong American Ale and Category 22A (Double IPA).  
--Curious about the changes to the BJCP???  Go to  http://draftmag.com/what-you-need-to-know-about-the-revised-bjcp-2015-guidelines/
BREWER'S CORNER
--Members brought Oktoberfest, Kolsch and Milk Stout and asked for feedback from Brett and others.  
NEXT MEETING
Hope to see everyone at the NOVEMBER 17th meeting held at Gary and Claire's  PLEASE remember to go to SIGNUP GENIUS and indicate if you are coming and what you will be bringing.  The Beer Theme for November is Dark European Lagers and members can bring home brew or commercial varieties for tasting.   
PLEASE REMEMBER TO LABEL THE BEERS YOU BRING...with your name, the type of beer, any name you have for it and the BJCP category you were going for if appropriate.  There will be a separate place to set aside the beer that you want to go into the Brewer's Corner for feedback during the meeting.
WELCOME to 26 BADASS members and guests for the last meeting of the summer. This month's meeting was hosted by Dan and Helen.
This month's theme was: Fest Beers and Marzens. Festbiers are category 4B in the BJCP. (Category 4 is "Pale Malty European Lagers") Marzens are category 6A in the BJCP. (Category 6 is "Amber Malty European Lagers".
MEMBERS are reminded to LABEL each beer that they bring to the meetings with the following information: Brewer's name, name of beer, BJCP category, and ABV. People want to know whose beer they are drinking!!!!
BREWER'S CORNER Members are invited each month to seek feedback on beers they brewed for this meeting. This month we sampled several fantastic beers including an oktoberfest, a rye pale ale, a new zealand inspired IPA. We also had a couple from folks looking for help diagnosing problems in their beer. We look forward to helping out all our members continue to refine their beer to their liking so be sure to bring something in for tasting next month!
UPCOMING EVENTS A number of competitions are coming up. Members are encouraged to go to http://www.mdhomebrewers.com/?page_id+=474 for specific information
A "MEMBER DISCOUNT PROGRAM" for various local businesses is being finalized. Cards for members are being printed and details for using the cards will be covered at the next meeting.
CLUB NEWS this month featured a change in leadership. BADASS's Captain, Allen Perper stepped down and turned the reins over to Justin Kirby. (More on this to follow!!)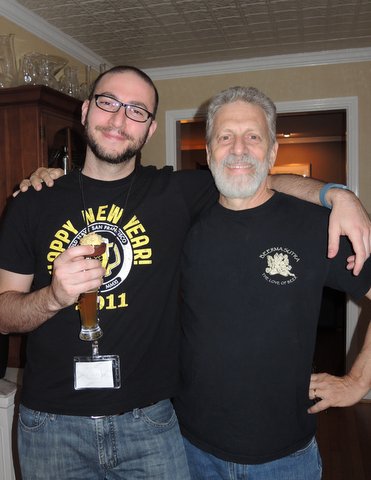 EDUCATION TOPIC: "Mashing" by Matt Ellis. Matt gave an excellent thoughtful presentation which can be viewed on the BADASS website.
The June meeting was our annual potluck and a big shout out to Matt E for hosting the 30 or so of us.  The food was  pletiful, the beers were flowing, and the spirit was high.  We had a talk on Beer Clarity from Paul Rhinehart of Baying Hound Aleworks of Rockville. Sparked a lot of conversation on methods and ingredients for clearing up beers.  All in all, a great time.

Here are the notes from the May 2015 meeting at the Brew Cave.
WELCOME to about 20 attendees. Thanks once again to Gary and Claire for hosting the meeting.
BREWER'S CORNER – We will be trying to use a format similar to BURP's for tasting members' beers and giving feedback. Ours might be a bit less formal than theirs. Brewers will be asked to briefly describe what they were attempting to brew, then allow members to taste it and participate in a discussion and critique in real time.
SPECIAL EVENTS- The Guild Picnic (June 6th, 2015) will be at Hollofield Area, Shelter 300, 12:00 – dusk. There will be a wheat beer competition (THEY NEED ONE MORE JUDGE). There will be a raffle at the picnic with proceeds going to Matt McCann's family. Matt was a founder of BaltiBrew and succumbed to cancer recently. A fundraising campaign has been established and more info can be found at https://www.crowdrise.com/Supportthe McCanns/fundraiser/caleakevlinganci
REFER to the AGENDA for this meeting on the BADASS website for details on these upcoming events: Frederick Beer Week, Society for the Preservation of Beers from the Wood, Savor, MASHOUT, and Zymurnauts/SPBW/GUILD Crab Feast
Latest news is that next year's AHA will not be held in Baltimore or DC… but maybe Louisville.
This year's "Bacon and Beer" fest was GOOD! They offered a rare beer tapping every ½ hour, opened the gates early and finally, cooked the bacon properly!
The DC Spring Seasonal "thing" had low attendance, was in a space that was too large, not decorated, and is not being recommended as a future event.
EDUCATION TOPIC this month is: "BADASS Yeast: Reduce, Reuse, Recycle" Gary will post his presentation on the BADASS website. He discussed details for why and how to "Harvest Your Own Yeast"… His sources can be found in the NOTES section of his PP Presentation.
Various members of BADASS have yeast to share with other members. Mark specifically has lots of saison yeast. Go onto the "Members Only" section of the website, use your password for further info. Categories include "I have some (to share)" and "I want to get some"
THE BEER THEME this month is MAIBOCKs (BJCP Style 5a (5 for Bocks and "a" for a Maibock). A Maibock is a lager that is malty, between 6.3 and 7.4 ABV. The group tasted and commented on 4-5 Maibocks …some made by members and some purchased from commercial brewers.
NEXT MONTH's MEETING will be hosted by Matt Ellis and will be Sunday June 21st (note date change to June 28th) in conjunction with the BADASS annual potluck. There was some concern that attendance might be low since it was Father's Day. Please be sure to sign up for food on the website. Maybe we should have a BBQ competition???
Mark asked club members to consider supporting some type of charitable activity: suggestions were "A Wider Circle" or the "DC Diaper Bank" or "DogsXL". Members should email Mark directly if you want to add another charity. Maybe our club should ask the Guild to consider adding "A Wider Circle" to the list of charities who receive money from the proceeds of the FSHCG Holiday Party.
CONSIDER SHOPPING….on June 8th 10% of the proceeds from Fenwick Beer and Wine will be donated to A Wider Circle.
Should BADASS create a Membership Directory? What determines "a member"? Benefits? Local Discounts at restaurants or breweries? Could each member print their own "MEMBER CARD" from the Members Only section of the website?? Probably need more discussion on this topic.
BADASS February 2015 Meeting Minutes
WELCOME from Captain BADASS to about 25 attendees. Thanks to Gary and Claire for hosting us . Newbies who joined in this meeting include: Terry (the "drinker") and Nathan (the "brewer") who just began brewing in November and Dan Mc Mullen who is sort of a new brewer…and now making an IPA. A quick spin around the room found members brewing a Belgian double dark (Bryan), a Boddington clone (Gavin), sour ciders and a Belgian dark souring (Gary), a Maibock, Rauchbier, pineapple cider, and an Irish Red (Dan), a black RyePA and ciders that will be ready this fall (Michele), a Munich dunkel, two styles of English bitter using different yeasts, and a Vienna lager (Larry). You can always contact them if you want more details.
UPCOMING EVENTS There is a section on the BADASS website noting all upcoming events. The Captain reviewed a few during the meeting: BURP Tour de Brew in Richmond  DC Homebrewers Cherry Blossom competition to register or judge; BURPs "Spirit of Free Beer" with judging at Old Line will be April 18th, with entries due April 11th.. Go to their website to sign up to be a steward or to be a judge. "Annapolis Beer Week" will be April 18 – 25. "Frederick Beer Week" will be May 29 – June 6th; and the "National Homebrewers Conference" will be held in San Diego this year June 11-13. The conference may be held in Baltimore in either 2016 or 2017 …if so local clubs will help. The "Mad Fox Barleywine Festival" is a good 2 day event held in Falls Church, with two educational sessions each day. It is walking distance from the Fall Church Metro and there is no fee.
EVENTS OR BITS OF INTEREST TO SHARE 1. Growler's (in Gaithersburg) are selling some barrels for $150. 2. The Guild's Holiday Party was a great success: They took in $10,400 and $7,000 of that was donated to the chosen charities! A big thanks to everyone who helped pull the BADASS/BREW table together.
CLUB NEWS We have four members (Matt, Joan, Justin, and Rich) signed up for the BJCP (Beer Judge Certification Program) course. We look for great things from them in the future.
This month's theme was dark beer: Baltic Porters (BJCP Category 12 C), Schwarz Bier (BJCP Category 4C), and Munich Dunkel (BJCP Category 4B). We tasted Baltik "4" a Russian made beer dark lager and others.
The theme for the March meeting is Irish reds/Scottish/Irish stouts.
EDUCATION TOPIC Brian discussed the counter- flow wort chiller he made and how it worked.
Robert discussed issues related to fermentation. By sharing "what bugs him" he hoped to help other brewers avoid some potential problems. Here are a few comments from his presentation: Consider pitching rates, yeast viability, size, initial oxygen level, temperature at fermentation etc. to determine fermentation success. Dry yeast might be "good" for up to two years, but liquid yeast loses a percentage of its viability from month to month…and is often only "good" for three to four months. Home brewers probably should not pitch yeast more than three times in any one beer because there is the potential for sanitation issues each time you do it. Most home brewers under pitch. Possible issues of under pitching are: Yeast has to reproduce more (which possibly creates more off flavors), more esters are created (like a Heffeweizen), lots of diacetyl, higher fusels, as well as the increased risk of infection. Possible issues from over pitching are: lower esters, cleaner less cloudy beer, fast fermentation, and possibly a "thinner" beer since the yeast eats everything!). New brewers should be aware that pitching tables on line have very different recommendations. Another note: wild fluctuation of temperature is bad for the yeast! Stir plates help build the yeast's viability. Lagers take lots more yeast (like 1/3 – ½ more). Ales take less yeast. During discussions Larry said he like the White Labs Chart which lists the characteristics of all their yeasts, and which beer they are for, their temperature range, their attenuation percentage, and which flavors to expect. (You can get a chart of this from the White Labs website or maybe from Maryland Homebrew.)
The joint meeting with BURP with a wonderful success! We met on a nice winter afternoon at the American Legion in Wheaton. The neat dimension of the meeting was the caveat we could only bring homebrews, and both clubs did not disappoint. BURP and BADASS filled the bar with tasty brews and delicious snacks.
Everybody mixed and mingled for the first hour or so as beers were shared and new friends were made. Then, BURP education and enlightenment taught us about sparging. This process, also called lautering, is a step at the end of the mashing process where hot water is run through the grain bed to extract wort. As we know, the wort is later boiled and fermented to produce beer. I hope I heard this correctly, but theoretically you can mash in any type of equipment, but they were using false-bottomed mash tuns. Water flows through the grain bed and enters the lauter tun. Water upwards of 170 degrees is poured ontop of the loose grain bed, and the wort is compacted. A five gallon batch could take about 40 minutes to sparge and a 10 gallon could take about an hour. We also discussed the differences between continuous sparge and batch sparging.
The next topic of conversation was led by our own Dan K., who led us on a discussion of brewing in a bag. We saw an inside view into Dan's setup, who showed us a very detailed and descriptive photo lecture on how we would boil in a bag with a kettle and using a magnetic coil to heat. His brew station is perfect for all-grain solutions, and you can use a pulley to lift bag after the mash. Hop additions are done in another bag, and Dan uses a drilled kettle lid during the boil. I am sure he'd be happy to share his presentation and knowledge to anyone else who is interested!
The meeting then progressed with more socializing and simultaneous judging/scoring of strong ales. I believe that Michelle T. and Justin K. were among some of our representatives on the judging panel. While unfortunately no BADASSers won the competition, we had some wonderful submissions! There was also a raffle, and we heard about BURP's upcoming trips to Richmond.
Overall, it was a great joint meeting, and everyone could drink more than there fill of the varied homebrews. Please feel free to share your pictures or other memories from January's meeting. I'd be happy to update this section. Cheers, and see you all February. --Sharon R.
November 18, 2014 @ Gary and Claire Sharp's House
Huge thanks to Gary and Claire for hosting our November, UK Beer-themed night. Also, thank you to Justin for organizing the tastings of tonight's samples.
We're honored to welcome Jason, who brought a pumpkin curry beer, and is brewing a hazelnut winter ale. Also, welcome to John, a friend of many of the other members?
Joan is organizing a Christmas Gift Swap. We'll be paring each person with a recipient to give them a six pack. Names will be swapped and gathered two weeks before the December meeting. Joan K will send out info shortly.
Club News:
• New leadership: more formality, we won't lose out on fun!
o Gary : IT
o Justin: Membership
o Mark: Treasury
o Rich: Education
o Helen and Sharon: Information
• The agenda will be posted in advance of each upcoming meeting both over the listserv and online on our page.
• The Captain, Robert, Roger, and Justin are working in the Maryland Law committee to discuss changes in beer and beverage law. Hoping to use Michigan and Virginia as best practices
• Cider order was a success! The Captain is brewing a pomegranate cider
• Guild Party is December 6th. It is Hawaiian themed, and will benefit a few local charities
o Denizens to hopefully be donating some free tours
o Mrs. K's is donating a brunch for two
o Tickets might be available online at the Guild Site
• Huge push for labeling new beers! Sharon R. will be distributing tags next meeting for those that come unlabeled
• Justin, Chris, and Dan helped with tasting this session, but reminded us it is an open call for anyone who wants to get better at tasting to participate
So You Want To Start a Brewery?
• Talk hosted by Rich S. who told us that if you think your brewing is good, think about a brewery
• Need money and time, but be prepared for a lot of paperwork
• Redefine what is a beer, like Dogfish consistently does
• Full Tilt contracts their brewing space out
• Baying Hound in Rockville as an example
• Wolf's Ridge, in Columbus, Ohio, needed $300k to start
• Nanobrewery: not technically a business entity outside of New Hampshire
o Less than 2,000 bbl
• Microbrewery: less than 15,000 bbl
• Consider:
o What makes your brewing stand out?
o Find something niche: the biggest, the best, or the first
o In a new location (women-owned brewery?)
• Needs:
o Money
o Compliance to laws
o Support
o And Future Plans
Gavin M. Discussion on "Lower End" UK Beers
• Beers tried: London Pride and Fuler's ESB (both mid-range in ABV)
• Beers stay darker, sweet for a longer time, traditionally
• Started adding hops in the 16th century
• Learned that East Kent Golding Hops became very popular
o Myth! Hops did not originate in beer to prevent beer from spoiling on the way to India. Thanks to Elspeth for clearing that up
o Hops taste better with spicy foods
o Myth! Beer was made because water was bad
• Bitter differentiated from fresh/recently brewed beer
• Some classifications are: Best Bitter, Ordinary Bitter, Boy's Bitter, and Extra Special Bitter
• Low acid ratio in the hops keeps them on the sweet side
• Low alcohol: 4.6-6.2%
• Overall, if you're not into hops, you'll like these.
Dan K: Scottish and Scoth Ale
• Beers tried: Belhaven Scottish Ale, Belhaven Wee Heavy, Old Chub Nitro
• BJCP Category 9
• Had to grow hops in Scotland,
• Pale ales, roasted barley for color
• Lower alcoholic levels
• Learned about 30 Shilling and cost of hog's head for beer
• Amber, mild-malt forwards for Scottish Ales
• Scotch ales were 90 shillings
• Wee heavy were smaller casks, they were expensive. Ask for a wee glass of the heavy!
Joan K: Porters and Stouts
• Beers tried: Samuel Smith's Taddy Porter and Imperial Stout
• Porters came first, then stouts
• First beer aged in brewery
• A "Stout Porter" became just a stout after some time
• 18th Century beers, heavily roasted malts, became toasted
• Light colors were porters, darkers became stouts
• Porters: lighter barley, sweeter, and full bodied
• Huge thanks for passing around some malts!
Allen P: Old Ales
• Beers tried: Old Peculiar, Innis and Gunn
• 1060-1080, Old Peculiar is under 1060 and thereby lower in alcohol
• Aged and served as strong ales, but very flavorful
• Good as a blend
• Innis and Gunn is barrel-aged in a rum barrel
November BADASS Meeting Agenda
Welcome & Shout Outs
Newbie Intros
Special Event Announcements from Members
Events this past month you attended
Club News
o New club roles and positions
o Small committee formed to discuss changes to Maryland law

o Cider Order
o We need a volunteer to host next month's meeting
Guild News
o Holiday party on Dec. 6th @ Heavy Seas
Labeling your brews – Sharon R
Holiday Beer Swap - Joan K

Homebrew tasting – Justin K
And now Rich Suchoski's talk on "So You Wanna Start a Brewery"
UK Beer theme presentations and tastings
o BJCP Category 8: British Best Bitter & ESBs – Gavin M
o BJCP Category 9: Scotch Ale – Dan K
o BJCP Category 12 & 13: Porters & Stouts – Joan K
o BJCP Category 19: Strong Ales – Allen P
BADASS Monthly Meeting- October 21, 2014
Thanks to Robert and Ann for hosting nearly 30 members. The club continues to grow. We have about 90 who have signed up on the website and are on the listserv. Welcome to all first time meeting attendees including: Joe (loves pumpkin beers), Andre and Paula (moved here from Michigan, likes sour ciders and beers), Bobby and Erica (hoping to try brewing/like sorghum based beers and ciders), John (likes pale ales), and Mike (our guest speaker---see more on him below).
LEADERSHIP ROLES ANNOUNCED – A small group of BADASS members met to continue discussing the future of the club: strategy for expanding, education, website/IT needs, meeting locations etc. Six roles are being suggested. Captain BADASS, IT Commander, Lieutenant of Education, Membership Ambassador, Commander of the Treasury, and Secretary of Information. The following folks have volunteered so far…. please talk with them if you want to work on these activities: Allen P - Captain, Justin K - Membership, Gary S – IT, Helen and Sharon R – Secretary, and Richard S – Education. The Treasury role is still open.
CHANGING MARYLAND LAWS re: Consuming Homebrew in Commercial Establishments - A group is getting together to lobby for more progressive laws regarding consuming homebrew in Montgomery county establishments. These will be based on the existing wine laws, such as the 'corkage' fee. The hope is to have the law change from just wine to all sorts of beverages. The homebrew groups across Maryland, including some BADASS-ers are working on the fight.
SIGN UP ON THE WEBSITE to participate in a group buy of fresh pressed apple cider $3.50 per gallon
NEW—BADASS MONTHLY TASTING AND JUDGING (Here is the original email from Justin outlining the steps)
1) Each month I'll send a couple email reminders to the group soliciting volunteers to submit beers for review. We're going to start small so as not to take up too much time during the meeting. For now we'll accept up to 3 and see how this goes.
2) As people get to the meeting (7:00-7:15 when people are trickling in) we will ask people to try samples of these blinded beers.
3) Paper/pencils will be provided for evaluation; it will be a very simple assessment sheet and not a full BJCP score sheet. (e.g. you rate it 1-5 on taste/smell/appearance/etc, maybe add comments or circle flavor descriptors). The last question will ask people to guess the style of the beer.
4) During the structured part of the meeting we will see how many people correctly guessed the style, summarize people's ratings, and have a quick group discussion of each beer. The discussion will cover what was good, what could be improved, and how to potentially fix any such issues we find.
Periodically we will include commercial beers with the others so people can see how homebrews stack up to those in a blind taste comparisons. Any takers for upcoming meetings? Please email
Justin directly neomantra82@gmail.com
During the October meeting, two Black IPAs and a Belgium Dubbel were tasted by a dozen folks using a rating sheet. Justin will review the ratings and provide the feedback to those who submitted beers. Good Start! Hope this continues for meetings to come.
NEED BADASS WEBSITE CONTENT Members are encouraged to contribute…Resources? Recipes? Other? What would YOU like to see? Gary reminded the group that we have a blog page. Maybe send in a review of a beer you've tasted somewhere.
GUILD NEWS- BADASS is a member of the Free State Home Brew Club Guild. The Guild meets once every two months. As the Captain, Alean represents BADASS at the meetings. The Guild's upcoming Holiday Party is December 6th from 6:00 pm to 10:00 pm at Heavy Seas in Linthicum. We will be having a booth together with the BREW club members. Allan is organizing…so contact him. If you would be willing to volunteer at the booth, bring food and beer, etc. More information to follow for those interested. We have up to 12 tickets and we MUST reserve our tickets by October 30th.
GUEST SPEAKER- Michael Tonsmeire, also known as The Mad Fermentationist. He gave an interesting and puckering presentation on Sour Beers (our theme this month). His talked included specific discussion about four sours he's brewed. He passed samples to the group throughout the discussion. We sampled his Berliner Weisse (he called it a beginner's sour beer), which was a tart and tangy wheat beer made with lactobacillus and lemon zest. Next a Lambic, brewed about two years ago, bottled three months ago. Third was a dark Saison made with dark fruit and quince paste. The yeast he uses often comes from the dregs of other sour beers he's made. Fourth was a Flemish Red, which has East Coast and Red Wine yeasts to give it a figgy, plum-y taste. It is pushing three years old now… and is about 7% ABV.
Michael graciously answered questions from the group. Question: Is there such a thing as a sour beer that is not "microbed"? Answer: It is hard to get enough acidity from just fruit. Question: When adding fruit is there such a thing as "too long" to leave it in? Answer: Fruit flavor tends to fade, so I add it 2 – 2 1/2 months before it is done. But it depends on the flavor you are trying to achieve. Question: How do you add an oak flavor? Answer: I cut cubes of oak and boil them for a bit either on the stove or in the microwave and drain off that water (to avoid having the flavor of licking a sheet of plywood!) before adding them. Question: Have you tried sour dough starters? Answer: Yes he has, but not much luck. Has done sourdough bread yeast.
One caution: Sour beers have to be stable before you bottle them…. Wait one to two months or you might be getting a "glass explosion!"
Mike has written a book called "American Sour Beers—Innovative Techniques for Mixed Fermentation" which is on sale for $20.00
The meeting ended with everyone a little more puckered than before, but happy. Looking forward to next month, which will have a UK theme!
NEXT MEETING LOCATION: Gary and Claire will host the November meeting. THANKS!
NOVEMBER MEETING PRESENTATION "So, You Want to Start a Brewery?" Rich Suchoski